The trendsetting folding drinking straw. You may not use it but you will absolutely buy it!
The herd mentality of the environmental movement is hard at work with the pending release of the folding collapsible reusable drinking straw.
The folding drinking straw is the "must-have" keychain accessory that may not see a lot of use but if you don't own one and use a disposable plastic straw instead you run the risk of being seen as a modern day Typhoid Mary.
Spotting Major Trends
Once in a while there are products you must have. To not own one will make you seem to the rest of the world as being "out of touch" or simply "clueless." In late 2018 and into 2019 that product is the folding reusable stainless steel drinking straw.
Following a major Kickstarter campaign the folding straw design Final Straw was overwhelmed and oversubscribed. Originally they looked to raise $12,500 at $30 a straw. They raised $1,894,878!
"Think about this, in less than 2 months more than 80,000 people paid $25-$30 for a single folding straw!"
What started all of this, a Turtle Video?
Yes…24 million views of the video below showing a sea turtle having a disposable plastic straw wrenched from its nostril, where it had become embedded it its sinus and throat has prompted a worldwide backlash against the disposable straw and gave rise to the folding stainless steel drinking straw.
The disposable plastic straw is now being banned worldwide. Seattle bans plastic straws.
Patent on folding drinking straw unlikely to happen, causes rush to market of copycat products.
Even though a patent is pending or applied for by Final Straw, it is seen by many as unlikely that a patent will be granted given the nature of the product and the fact that other folding straws may already have been patented in the past.
When a Kickstarter campaign goes insane such as this one, the promoters are often caught in a huge self-made mess. Newbie manufacturers whose initial goal is to sell 500 units and end up selling 80,000 units can get into production bottlenecks that may take years to untangle.
Even looking at their current delivery date for the first folding straws to be delivered they are estimating NOV of 2018. Promo Motive is currently ready to ship as of August 1st 2018. For prices and order quantities, contact John@Promo Crunch.com.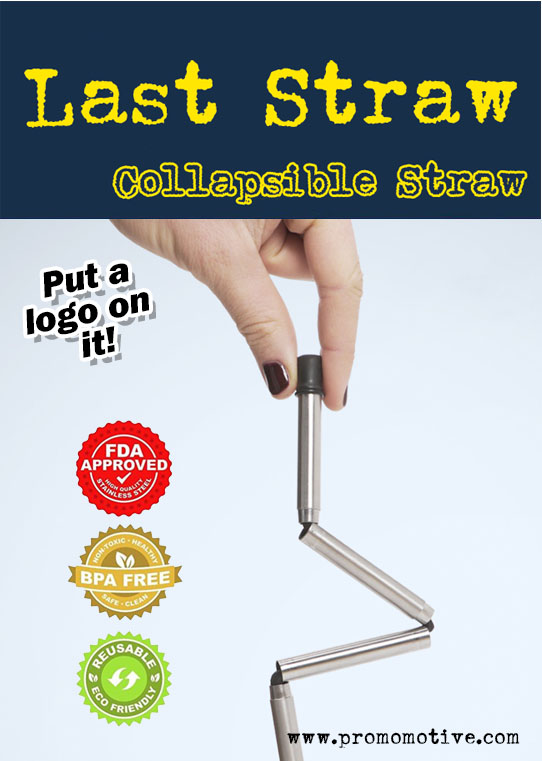 Perfect for Promotional Product Marketing
The most successful promotional products are ones that capture your attention, drawing the eye to the logo attached. A product like the collapsing folding drinking straw will tell people a number of things about your company.
"A logo on a folding drinking straw will say to others say you are eco friendly, environmentally sensitive, up to date on trends and current events, hip, smart, sexy and on point. Who really cares if you ever use it!"